Concrete Cutting Services In Palm Beach County, Florida
ABC Concrete Cutting has been serving West Palm Beach contractors since 1971. We have operators in your area daily and stationed in and around the Palm Beach County to get to your project quickly.
Please call for a quote from our experienced salesman, Ed Pacheco. Ed has been involved with every facet of the concrete cutting industry. Ed was a saw operator before entering a sales position. He is still considered one of the best slab sawers that we have. His 30 plus years in the concrete cutting industry in addition to his other experiences are sure to help you solve the most complex cutting problems.
In addition to basic concrete sawing, concrete coring, and concrete drilling, we have the ability wall saw, track saw, wire saw. As one of the most experienced cutters in South East Florida, we have accomplished concrete demolition inside of the most delicate environments. Aside from being one of the oldest concrete companies in the greater Palm Beach area, we have great young talent to execute safely and quickly.
We cut and core concrete, asphalt, granite, marble, and metals every day. We work with HVAC contractors, electrical and controls contractors, general contractors, facility owners, civil contractors, foundation specialists, residential contractors, home builders, construction management companies, marinas and DO-IT-YOURSELF homeowners. Let us be your favorite concrete cutter company to call!
If you are searching for concrete cutting near me or concrete cutting contractors near me, Ohio Concrete Sawing and Drilling, Michigan Concrete Sawing and Drilling, ABC Concrete Cutting are the right choice to complete all levels of concrete demolition. Each of our divisions has lists or areas we serve and we will travel outside those areas per the customer request. When searching for asphalt cutting or concrete coring near me, be sure to consider us an option to achieve your project goals. Even if we are not the closest concrete cutter nearest to you, we more than likely have concrete cutters living in your area. We can quickly get to your project and service you safely and swiftly. We look forward to hearing from you and serving your concrete cutting needs. Contact us today & check out the list of areas we serve below!
Palm Beach County Cities that we serve from our office include but not limited to:
Belle Glade

Boca Raton

Boynton Beach

Canal Point

Delray Beach

Green Acres

Jupiter

Lake Harbor

Lake Worth

Loxahatchee

North Palm Beach

Pahokee

Palm Beach

Palm Beach Gardens

South Bay

Wellington

West Palm Beach
Additional Counties we serve Dade County, Monroe County, Broward County, Martin County, St. Lucie County, Indian River County, Brevard County, Okeechobee County, and Highlands County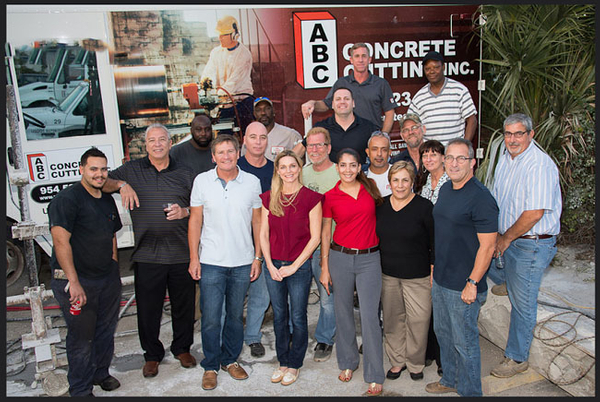 About ABC Concrete Cutting, Inc
ABC Cutting Contractors was started in 1971 by Larry McCoy. Moving from California, Larry worked hard to convince South Florida that cutting concrete was faster and more efficient solution to the jackhammer. For 30 years, his diligence and his employees helped build ABC Cutting into a South Florida mainstay. The most unique and difficult projects were at the Panama Canal and Cape Canaveral. ABC contractors hard work and relationships helped develop the other ABC Cutting locations in Indiana, Alabama, and Georgia. Larry passed away in July of 2004 and the business was carried on by his wife, Faith, with the assistance of the general managers.
In August of 2010, Ohio Concrete Sawing and Drilling purchased the assets of ABC Concrete Cutting contractors. These assets along with Carrier Concrete Cutting were merged to form ABC Concrete Cutting. Many of the employees that were apart of ABC Cutting Contractors joined the new company to help build ABC Concrete Cutting, Inc.
ABC Concrete Cutting is primed to help meet your needs in the Asphalt, Block, Brick, or Concrete demolition work. Extensive tooling and experienced operators help deliver projects efficiently and on time. We strive to deliver quality at an affordable price. Safety plays a key role in how we execute your job. Contact ABC Concrete Cutting, Inc us today to let us help you complete your job.
Concrete Sawing & Cutting
Concrete Treatments & Corrections

Fill out the form below for an estimate
If additional information is required, our local salesman will contact you. In many cases, a site visit is required in order to provide an accurate job estimate. If you have prints or pictures please email sales@abcconcretecutting.com.